Wednesday, September 30, 2015
After delivering an amazing keynote session during the Presentation Summit 2011 in Austin, Nigel Holmes returned to this conference to present the first keynote of the conference in New Orleans in September 2015.

Nigel began by asking everyone to place a card that had a printed smiling lip over their lips -- he then clicked a picture of the audience!




He then shared a humorous video about cheese and how cheese brings up romantic feelings!
Yes, that was humorous. Speaking of humor, Nigel talked about humor, good humor, good feelings, and feelings -- and then emotions.
Nigel then shared a quote:
Your intellect may be confused, but your emotions never lie to you.
- Robert Ebert
Nigel shared some thoughts:
The best way to connect with people is to make them smile -- not really laugh but just smile.
Humor has a close connection to human emotion.
Nigel then explained how you can save yourself from being eaten by an alligator. He certainly used a visual to explain this concept.
Now, making fun about how you can save yourself from an alligator while you are within the alligator -- that may not appear to be too funny to some people! As Nigel added:
But -- and it's a big, heavy "but", this is not trivializing information as some purists may fear.
He also added:
Here's the dilemma. Just because it is serious, does it make it authoritative? Just because it is light hearted, does it make it not authoritative?
Sometimes, these situations may lead to unexpected results. A particular scientist was upset when his research was being presented as a cartoonish visual. He was offended that humor was being used with his work. He complained, "You are making fun, you are making fun of my life's work!" But then, after the visual was published, he had a different opinion. He said, "Now my colleagues can see and understand better what I have been doing all these years!" And yes, the scientist said "thank you"!
Nigel clarified his thought process further:
Humor is not convincing others to be funny, but to be approachable.
He then quoted Confucius:
Tell me and I will forget;
Show me and I may remember;
Involve me and I will understand.
- Confucius, 450 BC
Nigel then asked everyone to do the paralysis test.
With your ring finger extended, rest your hand on a flat surface.
Press your hand down firmly.
Now try to lift your ring finger.
That's what it feels like to be paralyzed.
He showed a hand poster from the New York Times.
He asked the audience to notice that the size of the hand on that page was essentially many times larger than an actual human hand. Why was it larger? To explain this reasoning better, Nigel asked 6 attendees to come forward and participate in a small exercise.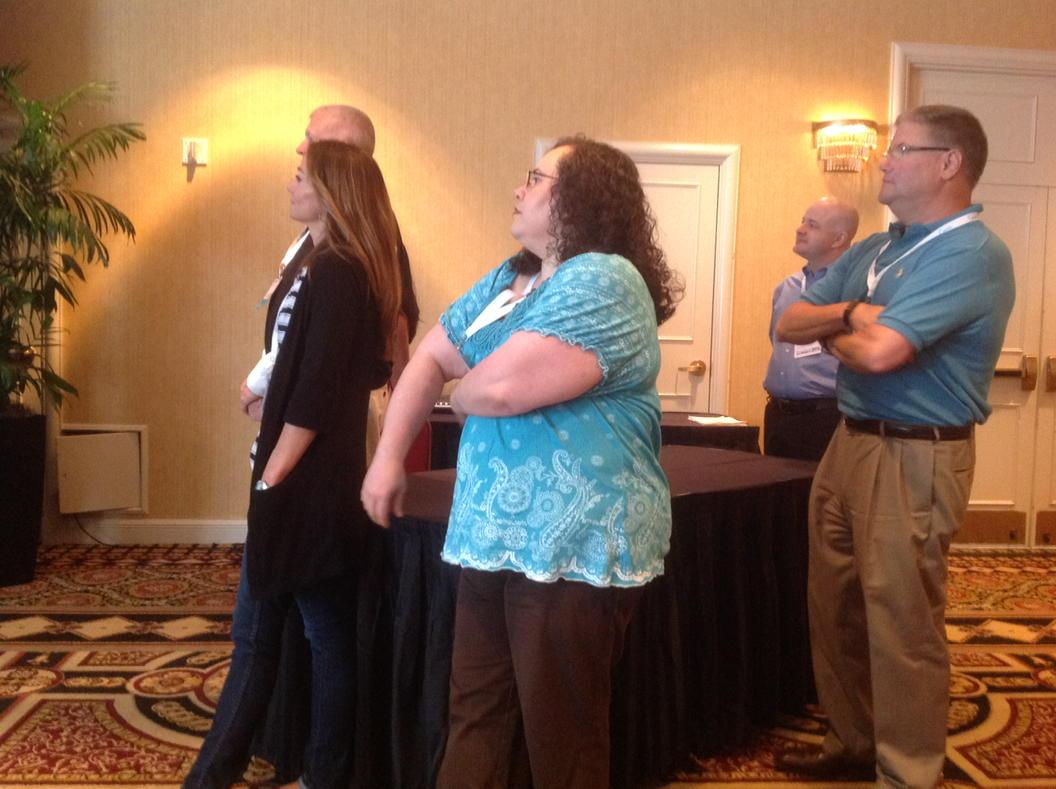 He showed them three pictures: First, they were shown a picture of the facade of the hotel in New Orleans.
He then also showed a picture of the Lascaux caves in France, from around 16,000 years ago.
Finally, he showed a picture of the Chauvet caves in France, from around 32,000 years ago.
Nigel then remarked that paintings were not too different 16,000 and 32,000 years ago. So that must have been one long art movement!
Why did Nigel talk about something that was millions of years old? That was because he wanted to explore differences between a million, a billion, and a trillion -- especially between a million, a billion, and a trillion seconds.
Nigel used exercises for the participants to make these differences obvious.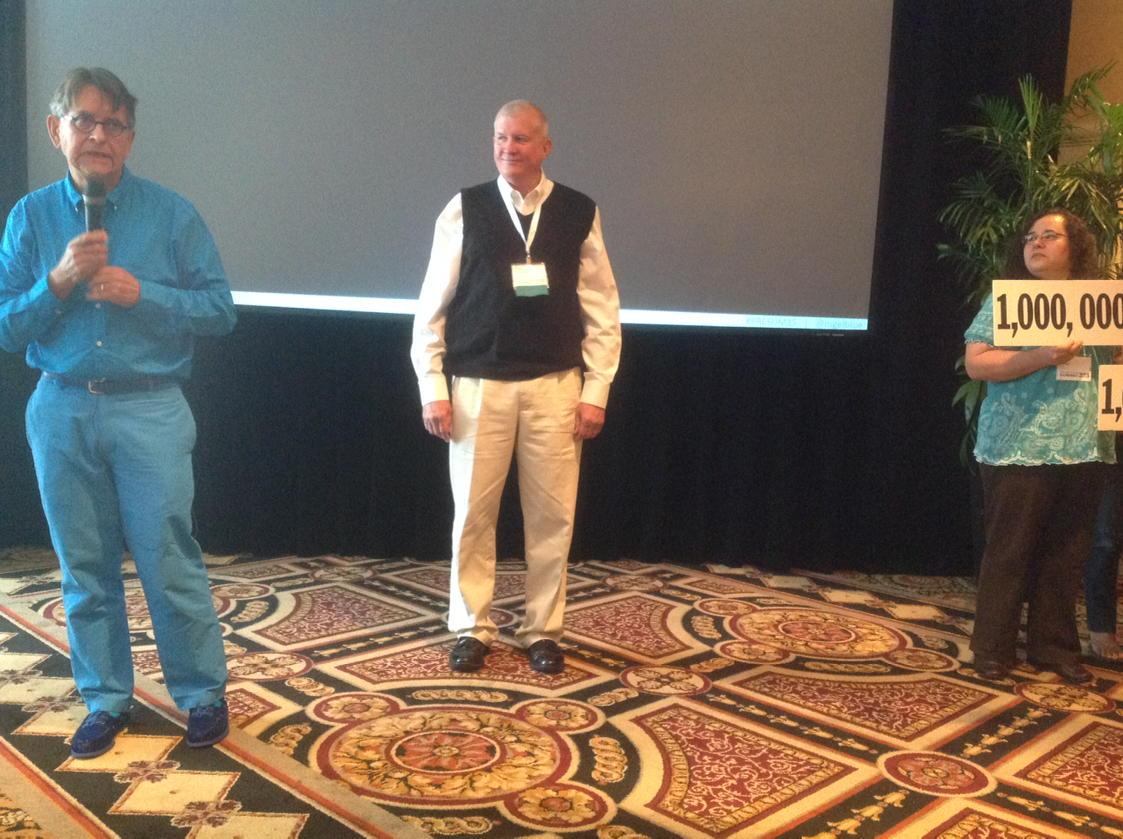 He also explained differences between a byte and zettabyte.
So why this talk about millions, billions, and trillions -- or even a discussion about bytes and zettabytes? That's because everything relates to context. This context explains and makes one understand better. Context also lets you visualize.
Getting back to context -- and talk about millions and billions, Nigel opened up bundles of dollar notes -- he actually had a million dollars! Were they real? Let's leave that to your imagination and get to the context part now! So a million dollars, when stacked above each other in wads would go up a little higher than 3 feet. A billion dollars would be twice the height of the Empire Sate Building. And a trillion dollars may take us somewhere in space?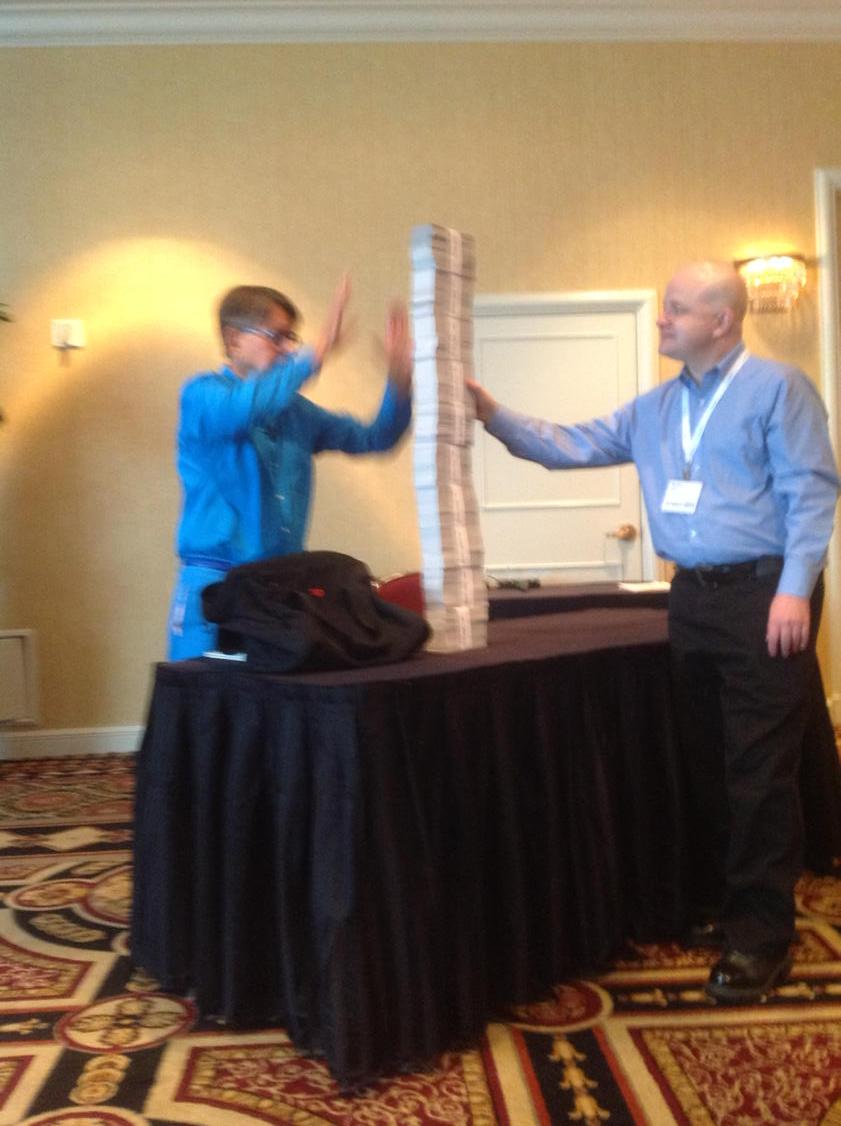 Nigel then showed a visual of the moon. He compared the size of the moon to the size of USA or Australia. Nigel also showed a context based graphic that wondered how large other planets in the solar system would be if the earth was the size of a cherry tomato?
Nigel shared some more thoughts:
Context helps bring out the sizes of things and their relations.
You understand something better when it is compared to something you know.
Leave space -- the eye can fill in space.
Space creates a method to show something that's important and directs the eye.
The key to a great information graphic is editing. Editing is not the same as simplifying. In fact, the word clarify is better than simplify.
Simplification means eliminating the unnecessary so that the necessary may speak.
- Hans Hofmann
We cram in too much stuff into the spaces we are given.
It's just not graphics, toothbrushes are complicated too!
Pie charts may be a no-no now -- but here's a pie chart of a pyramid.
Looking at seemingly different images relaxes the mind. When we see different things, we relax. May be that's why guitarists make those strange faces?
Nigel then spoke about a rainbow pencil that was made with paper of different colors. Sharpen the pencil and you will end up with lovely shavings as a result.
Nigel then showed a gift from his grandson, a carrot sharpener. He then actually used the sharpener to create shavings from the carrot -- he gifted me one!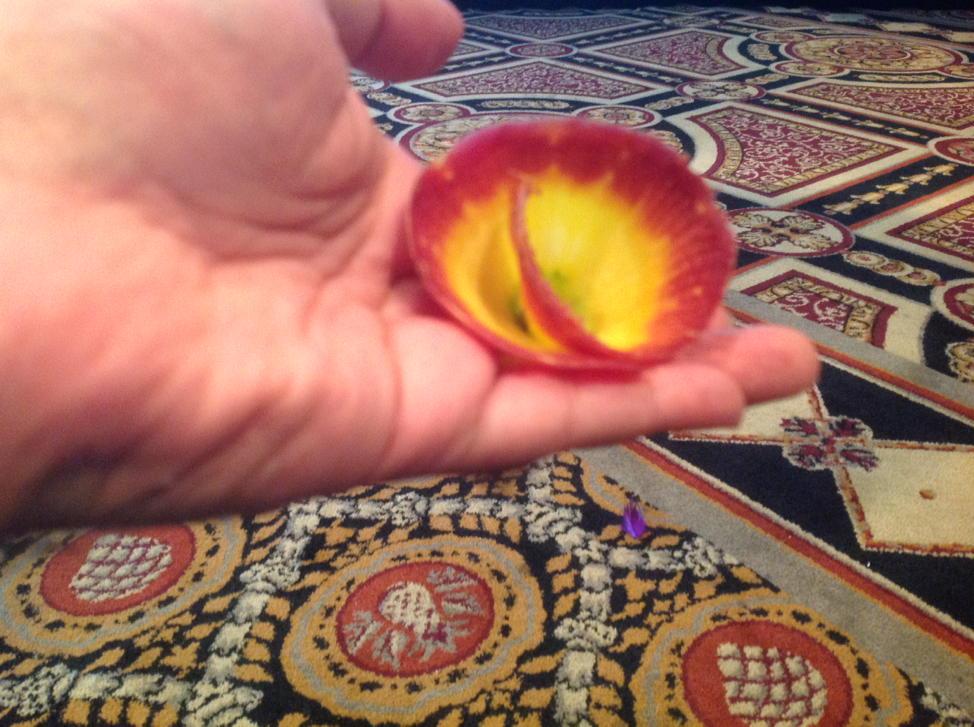 Nigel ended by paraphrasing whatever was explored in his keynote session, as shown in this slide below.
Nigel Holmes
moved to America in 1978 to work for Time Magazine. He became graphics director and stayed there for 16 years. Despite academic criticism, he remains committed to the power of pictures and humor to help people understand otherwise abstract numbers and difficult scientific concepts, whether in print or in presentations.
Labels: nigel_holmes, powerpoint, presentation_summit, presentationsummit, synopsis




The Ribbon is the long strip comprising tabs with buttons across the top of the main window within the PowerPoint interface. Since PowerPoint 2007, the Ribbon has replaced all the menus and toolbars that were found in PowerPoint 2003 and older versions. The Ribbon contains almost all the commands you need to work with your slides, and is designed in a way that helps you quickly find the commands that you need to complete a task. You no longer have to search commands endlessly through many menus and sub-menus.




Learn about the Ribbon and Tabs in the PowerPoint 2016 interface.
Labels: interface, office_2016, powerpoint_2016, tutorials


Tuesday, September 29, 2015


We first present an interview with Taylor Croonquist, who discusses his then-upcoming webinar as part of the Outstanding Presentations series. We also bring you interviews with celebrated speakers who will be part of the Presentation Summit in New Orleans later this month. This week we feature Echo Swinford, Alan Hoffler, and Alexander Hanauer.

We begin a tutorial series for the new PowerPoint 2016 for Windows -- we explore the Interface and the Presentation Gallery. We then continue with three tutorials that will help you work better within Microsoft Sway. Finally, don't miss the new discussions and templates of this week!




Read Indezine's PowerPoint and Presenting News.
Labels: ezine, powerpoint


Jon Schwabish is an economist, writer, teacher, and creator of policy-relevant data visualizations. He is considered a leading voice for clarity and accessibility in how researchers communicate their findings. He is currently writing a book with Columbia University Press on presentation design and techniques. Jon tweets on @jschwabish.

In this conversation, Jon discusses his session at the Presentation Summit 2015 series.

Geetesh: Jon, you are doing a session this year at the Presentation Summit called Give a Nerd a Number: Improve how you visualize your data. Can you tell us more about this session, and what takeaways can the audience expect?

Jon: The data visualization field combines data analysis, graphic design, journalism, and statistics in a way that can help analysts in a variety of fields provide their audience with greater insights into their research and their products.

In my presentation at this year's Presentation Summit, I am going to lay the groundwork for how presenters can use data visualization to more effectively communicate to their audience. I will demonstrate the different types of visualizations and their uses, as well as how to avoid creating graphics that result in ineffective and inaccurate perceptions of data. The basic guidelines I will lay out will help presenters create clearer, more accurate, and more visually appealing graphics. I'll also have a few freebies for a lucky few in attendance.




Geetesh: Can you tell us more about yourself – and how do you approach good design for slides, especially when there are many numbers involved?

Jon: My background is in economics—I have a PhD from Syracuse University—and spent the first 10 years or so of my professional career conducting research on Social Security, Disability Insurance, food stamps, and immigration for the U.S. Congress. I became interested in data visualization and more effective presentation techniques a few years ago when I realized that many of our reports and analyses did not seem to have an impact we desired. I think one way in which researchers and analysts can get their work to have more impact is to more effectively visualize their research and think about how the reader or audience will receive the information.

When it comes to presenting research and analysis, I try to follow 4 primary principles:
Visualize the information. Bullet points and dense tables only serve to make your audience lose focus and not buy into your content. By visualizing data and information, your audience will be more likely to recognize and recall that information.
Unify your presentation, in how you speak, how your slides look, and how you present your work and conclusions. Unifying design and content is not about "dumbing down" the presentation or sacrificing content in the name of making things "pop" or "look pretty." Better design is about supporting the speaker with slides that help the audience better understand your work. Without consistent-looking slides and consistency in how you speak, your audience will be lost in the randomness and be less likely to embrace your content.
Integrate what you say and what you show. Your presentation slides are there to support you, not to supplant you. The aesthetic of your slides—colors, fonts, and layout—should be used to help reinforce your content. Whether you are presenting your research about global climate change or drugs and crime in cities, the images and colors you use should reflect those topics and not be drawn randomly from the internet. Each should be chosen strategically to help you convey your message.
Focus your audience's attention on your specific argument and visuals to support your argument. As a presenter, you can control what your audience sees and when they see it. Many presenters pack their slides with as much information as possible and this ultimately leads to a lower transfer of information. Your audience's attention should be where you want it to be. Highlight the important message and important numbers; reduce the numbers on the slide and the columns in the chart and highlight the most important pieces of information.
These themes drive the book on presentation skills and design I am currently writing with Columbia University Press. I'm focusing on researchers and analysts who too often seem to think that the work ends when the research report is written and submitted to the academic journal or published on the website. But I think researchers can really improve their presentation skills by thinking first about the needs of the audience and not about their needs as the speaker. One of the core messages of the book is that a presentation is a fundamentally different form of communication than a written report. Treating them as the same thing—moving text into bullets and copying and pasting tables and figures from the paper to the slides—misses this important distinction.
Labels: interviews, jon_schwabish, presentation_summit, presentationsummit




Soon after a power user installs a new application, he or she wants to customize their menus and toolbars so that their most often used features are accessible with fewer clicks -- or even custom keyboard shortcuts. And even if you are not a power user, you should explore a very useful option that we explain in this tutorial -- this will make your tasks easier, and quicker. While PowerPoint's recent versions on Windows have almost no menus and toolbars, they do have a single toolbar called the Quick Access Toolbar. Almost everyone who uses this toolbar just calls it the QAT, and that's the name we will use for the rest of this tutorial.




Learn about the Quick Access Toolbar in PowerPoint 2016.
Labels: interface, office_2016, powerpoint_2016, tutorials


Monday, September 28, 2015
TJ Walker is the founder of Media Training Worldwide and has been conducting media training workshops and seminars since 1984. Walker has trained Presidents of countries, Prime Ministers, Nobel Peace Prize winners, Super Bowl winners, U.S. Senators, Miss Universes and Members of Parliament. His book, Secret to Foolproof Presentations was a USA Today #1 Bestseller, as well as a Wall Street Journal, and Business Week Bestseller.

In this conversation, TJ discusses his upcoming webinar tomorrow, which he will present as part of the Outstanding Presentations 2015 series.

Geetesh: Tell us more about what you do -- and also about how audience perceptions about visuals have changed/evolved over the years?

TJ: Hi, I am TJ Walker, and I have had a lifetime passion for public speaking, oh, or almost! When I was a young boy, I was incredibly shy. I basically never said anything. And, when I was 12, 13 years old, went to Junior High School – then I developed an interest in government, politics, student government and running for office. That forced me out of my comfort zone. I had to start speaking.

And ever since then, I developed the passion for public speaking, to the live audiences and the media. People ask me all the times, "TJ, how do you capture the interest of an audience? What's the secret?" Well, here's the easiest way of making sure you are always going to be interesting to the audience. Practice your speech in advance, on video! These days you can use any cellphone, any smartphone, a webcam, and then watch yourself. If you find that you are boring yourself, guess what, you are boring! Take that part of your speech, tear it up, and throw it away. Keep practicing your presentation on video until you find it interesting throughout. Chances are you are interesting to the audience.




Geetesh: What will you speak about in your session as part of the Outstanding Presentations series – and what would be the takeaway for attendees?

TJ: What you're going to learn in our time together as a part of this conference, I am going to teach you the secrets of really getting to the next level. And how to rehearse in the way that my clients before they're going to the TED conference rehearse. You can't just talk it through once, practice and look at the video. You have to go through it again and again and again until you are everything you say. You also there learn some techniques for making sure your PowerPoint slides actually work. Now, I'll be different from some of my colleagues in this conference. The golden PowerPoint slide is not doing the PowerPoint graphics or word! It's a test you should give to every one of your slides before you give it to your final audience. And that is to give your presentation user slides to two or three of your colleagues a couple of days before.

Test them. After the presentation, ask them about every slide that they remember. And, what the point was? Any slide they can't remember, take that slide and throw it in the trash can. That's right. You can use some controversial things in this webinar – a little different from some of the other experts. But, I look forward spending time with you and exploring this in greater detail.


Labels: interviews, outstanding_presentations_workshop, powerpoint, tj_walker, webinar




How people use PowerPoint can certainly depend upon how intuitive and easy-to-discover the interface elements are. We will explore the existing features within the Backstage view which makes such features easy to access. You access Backstage view from the File tab, which is placed at the left extreme of the Ribbon.




Explore the Backstage view in PowerPoint 2016.
Labels: interface, office_2016, powerpoint_2016, tutorials


Friday, September 25, 2015
Alexander Hanauer is a consultant and designer for More Impact, a specialized presentation agency based in Germany. He has a passion for creating high-impact, inspiring slides designed to connect people with ideas. When he's not at work, Alex enjoys spending time with his family and friends or playing "Rembetiko" music – Greek Blues – on his bouzouki.

In this conversation, Alexander discusses his sessions at the upcoming Presentation Summit 2015 series.

Geetesh: Alexander, you're doing two sessions this year at the Presentation Summit. One of them is Outside the PowerPoint Box: Smart solutions for making PowerPoint more powerful. Can you tell us more about this session? What can the audience expect to learn?

Alexander: My session addresses three questions:
How can I focus the attention of my audience?
How can I establish a good connection with them? and
How can I work faster with much better output?
Participants will see some new and astonishing animation effects and discover cutting-edge presentation technologies. They will also learn highly effective working methods and see how add-ins boost efficiency.
Geetesh: Can you tell us more about your work? How do you approach good design for slides?
Alexander:
I have an advertising and communication background and more than 20 years of experience as a Creative Director, Presentation Designer and Coach.
Usually, creatives in advertising agencies don't work with Microsoft Office. And the Office experts and MVPs are not trained designers. In our agency, we combine both and create presentations that reach the audience also on an emotional level.
For most PowerPoint users, creating presentations is a chore. For us, it's pure joy! We love integrating our DNA into projects and adding emotional impact for clients.
Labels: alexander_hanauer, interviews, powerpoint, presentation_summit, presentationsummit




When launched, PowerPoint 2016 typically opens the Presentation Gallery. This Presentation Gallery provides several ways to start your next presentation using a template, a Theme, a recent presentation, a not-so-recent presentation, or even a blank presentation. These and other choices are explained in this tutorial.




Explore the new Presentation Gallery in PowerPoint 2016.
Labels: interface, office_2016, powerpoint_2016, tutorials


Thursday, September 24, 2015
Raised around America's Space Program, Alan Hoffler has earned degrees in aerospace engineering and applied mathematics, but his true passion is teaching. At some point in his 25 years of training technical corporate audiences, instructing in the college classroom, teaching public high school, and speaking nationally to pilots about flying safety he became passionate about helping others communicate with excellence. With a coach's passion, a teacher's heart, and an engineer's mind, his blog reveals his desire to improve himself as well as his clients.

In this conversation, Alan discusses his keynote at the upcoming Presentation Summit 2015 series.

Geetesh: Alan, you are doing a keynote this year at the Presentation Summit called What Not to Say: The 10 dumbest things speakers say. You are also doing another session, When It All Goes Wrong: Making your speech good when your situation turns bad. Can you tell us more about these sessions, and what takeaways can the audience expect?

Alan: The What Not to Say: The 10 dumbest things speakers say session will be a light-hearted look at all the phrases you hear pop up by well-meaning presenters that are detrimental to presentation success. When you hear them, you'll be amazed at how often they creep into our speech and wonder why you never questioned them before. It'll be fun, and some people will probably take offense to at least one thing I say. My goal is to get us (me included) to THINK before we speak.

The session on things going wrong will offer a practical rubric to handling any situation that comes up. The speaker is always aware of more than the audience, and many of these very practical interruptions can derail a perfectly good talk if we let it. This session will give some proactive tools to be prepared for the unpreparable.




Geetesh: Can you tell us more about yourself – and about your upcoming book, Presentation Sin?

Alan: I'm a teacher, plain and simple. I've taught math, basketball, aviation safety, multi-tier server deployments, and how to be a grateful teenager. But Presentation Sin is about the past decade's journey to teach others how to be exceptional on the stage. I believe it's trivially simple, but it must be really hard, because so few people are good. It used to bother me that our culture allowed (and perhaps condoned) mediocrity when presenting. Now it inspires me to be part of the change – to rid the world of lousy presentations.

The book is really a composite of the model that we teach in our workshops, with over a hundred examples and tips for how to excel. It's a light read—you'll see people you know and perhaps even see yourself. The goal of the book is to get presenters to give a long look at their skills and change the way they present for the better.


Labels: alan_hoffler, interviews, powerpoint, presentation_summit, presentationsummit




Here's a quick walkthrough of the PowerPoint 2016 interface -- the PowerPoint 2016 interface is quite similar to PowerPoint 2013. PowerPoint 2016 opens with a Presentation Gallery, which provides several ways to start your next presentation using a template, a Theme, a recent presentation, a not-so-recent presentation, or even a blank presentation. Once you make choices in this Presentation Gallery, you see the actual PowerPoint interface.




Explore a quick walkthrough of the PowerPoint 2016 interface.
Labels: interface, office_2016, powerpoint_2016, tutorials


Wednesday, September 23, 2015
A Microsoft PowerPoint MVP since 2000, Echo Swinford began her PowerPoint career in 1997. She holds a Master's degree in New Media from the Indiana University School of Informatics. Echo is the owner of Echosvoice, a PowerPoint consulting firm specializing in custom template development, presentation creation, makeovers and cleanup, and training for large and small corporate clients. Echo has written and co-written five PowerPoint books, developed a number of video publications, and has a string of tech editing credits to her name.

In this conversation, Echo discusses her sessions at the upcoming Presentation Summit 2015 series.

Geetesh: Echo, you are doing two sessions this year at the Presentation Summit called Template Creation Workshop: Secrets and Recipes for building awesome PowerPoint templates and Sync Animation to Video: All you need are triggers and bookmarks. Can you tell us more about these sessions, and what takeaways can the audience expect?

Echo: Co-conspirator Julie Terberg and I have led the template workshop for a number of years, but it's different every time. We ask that the attendees provide us with their templates and specific questions and we use those as a framework for discussion. We end up tackling various design and technical issues and give strategies for overcoming them. The goal is for those in the audience to walk away with practical advice they can apply to their next template project.

I'm really excited about the session on synching animation to video. First, the short format is new, and I'm looking forward to a quick, down-and-dirty session. But more importantly, multimedia is becoming more reliable in PowerPoint, and I've seen a definite increase in the use of short video clips in presentations. But nobody annotates them, ever! I think it's so cool that we can add drawings and text to video to point out things people should pay attention to or add captions or whatever. And the fact that we can control when those things appear is a huge bonus.




Geetesh: You've been part of the Presentation Summit for several years -- can you share your thoughts about how this event benefits new attendees, and also how it helps repeat visitors?

Echo: I've actually been a part of Presentation Summit since it was just an idea, and I haven't missed one yet. It's like a family reunion – but one where you actually like all the relatives! Seriously, our community is wonderfully cooperative and welcoming. I find the interaction incredibly inspiring, and I learn something new every single year. It's amazing to see new attendees as they start to realize they're not just attending a conference and learning new techniques, but they're taking the first steps to participating in a true community. That's a very cool thing.


Labels: echo_swinford, interviews, powerpoint, presentation_summit, presentationsummit


---