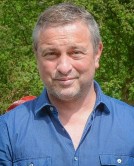 Kurt Dupont is a solution provider who would go out of his way just to ensure he brings out the best when it comes to issues that have to deal with data-driven presentations, data visualization, and digital signage software.
He started by working at airports worldwide to set up airport databases and flight information screens. This evolved to become the basis for PresentationPoint.
In this conversation, Kurt talks about the Presentation Ideas Europe online conference, being held on May 28th, 2020.
Indezine is a media partner for this event.
Geetesh: Kurt, this is the first year that you are holding a separate Presentation Ideas Europe Online Conference for European users. Can you tell us more about what motivated you to create an event separate from your North American event?
Kurt: Geetesh, you are correct. The earth is round and typically people only work 8 hours–and are offline around 16 hours a day. So, when you organize a global conference, you are ignoring a large part of the earth's population.
For the last 2 years, we held only one global conference, starting in the morning of the Western part of our planet. But 9 AM for San Francisco is already 6 PM for us in Belgium, and people from India and Australia are probably all sleeping. So, it has always been a logistical problem.
This year, we decided to split the conference into two. Basically, one that starts at 10 AM Central European time, which is ideal for the European continent, but also still possible for countries in 'higher' time zones.
And then later this fall, we will have an American based conference that will start in the morning, their time.
Geetesh: Who are the speakers this year, and how does one sign up? Is there a cost to attend this conference? Also, I am assuming this is not restricted to only European users?
Kurt: We have four speakers for the European conference. Three of the four speakers are directors or founders of super-great PowerPoint design agencies. They manage a team of professional PowerPoint designers and they know PowerPoint in and out. We will have:
Richard Goring of Bright Carbon
Topic: Masterclass in PowerPoint Design


Simon Morton of Eyeful Presentations
Topic: The Pitfalls of Presentation (In)Efficiency


Tom Becker of PresentationLoad
Topic: Next Level Ideas for Company Presentations


And, next to these three presentation gurus, I will teach viewers about How to Create Data-Driven Dashboards in PowerPoint.
You can sign up here.
The cost of the conference is totally free! We all love to share our knowledge. And, of course, everyone can attend; this is not for Europeans only. It is just that we have offices in the USA, Canada, and Europe, and the conference takes place in their respective mornings. That explains the name a bit, but of course, we are open to anyone who wants to attend.
---
The views and opinions expressed in this blog post or content are those of the authors or the interviewees and do not necessarily reflect the official policy or position of any other agency, organization, employer, or company.
---
---