think-cell recently released version 11 of their well-known add-in for PowerPoint and Excel. My contact at think-cell alerted me about this new release. I decided to play around with this new release.
I first uninstalled think-cell 10, although you don't need to do so. The folks at think-cell say that simply installing on top of an older version works just fine, but then, old habits die hard.
Next, I proceeded to the think-cell download page on their site that asked me to enter my email address, as registered in my think-cell account. Next, they sent me an email with the download link. Once I had installed think-cell, I was prompted to enter my license key. Finally, think-cell launched PowerPoint, and also opened up the Welcome to think-cell page on their site for me.
For those of you who do not have a think-cell license, you can still play with think-cell 11 using a 30-day trial license.
Let's begin by finding where you can locate think-cell elements. Unlike many other add-ins, think-cell does not create a separate tab on the Ribbon. Rather, think-cell options are found within the Insert tab of the Ribbon in both PowerPoint and Excel, as can be seen in the figures below.

think-cell 11 in PowerPoint

think-cell 11 in Excel
Getting started with think-cell is not difficult and this video shows you how easy it is to add a chart.
I added a chart using the new think-cell 11, as can be seen in the figure below. The process was quick, and I was certainly able to get results in less than a minute, as claimed in the think-cell tutorial video.

Chart with think-cell installed
However, not everyone I will share a chart with will have think-cell installed in their PowerPoint as an add-in. And even more worrying is the question of whether these recipients will be able to make edits to these charts? Rather than reach out to think-cell support with this question, I took the extreme step of uninstalling think-cell to experience what will happen to the chart if I send it to someone without think-cell?
It looks like I was needlessly worried. When the chart finds that there is no think-cell installed, it just behaves like a normal PowerPoint chart. In fact, selecting the chart also brings up the predictable Chart Design and Chart Format tabs on the Ribbon, highlighted in red within the figure below. I must add that all think-cell charts being native PowerPoint charts is not a new think-cell 11 feature, but I just played around to fulfill my curiosity.

Chart without think-cell installed
The fact that you can use think-cell to speed up the chart creation process, not to speak about the many other capabilities this tool possesses, is amazing. And the end result is a native PowerPoint chart. Of course, that's the icing on the cake.
Of course, most think-cell users are from large companies that license think-cell for all users, so this is not a big issue for them. However, large company users also need to work with designers and others who may not have think-cell installed, so it's a big deal that think-cell makes the file roundtripping so seamless.
Now, let us talk about the new features in think-cell 11. And who could be better than Markus Hannebauer, co-founder and CEO of think-cell to tell us more.
Geetesh: Markus, the new think-cell 11 looks like a huge overhaul? Can you please tell us more?
Here is his response: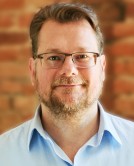 Many of our users analyze business data in Tableau and present important findings in PowerPoint. We make this very easy and seamless with think-cell 11. Tables and images are now part of our automatic layout, so users do not need to manually move or resize any elements. Stock photos can be inserted from Getty Images and Unsplash. Together with the smart text boxes and pentagons already available, many more slide types can now be fully automated, saving our users valuable time and increasing productivity.
Here's a video clip that showcases these new features.
---
The views and opinions expressed in this blog post or content are those of the authors or the interviewees and do not necessarily reflect the official policy or position of any other agency, organization, employer, or company.
---
---