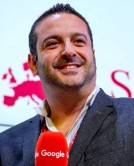 David Edri is a leading ad-tech and social media entrepreneur and executive with over 20+ years of industry experience. David is currently the CEO of Emaze, an online content creation software with patented automatic design technology. David was a founding team member of RadiumOne, an online marketing platform, where he led RadiumOne Engage, their marketplace for advertisers to engage with gamers and drive high value branded experiences with Fortune 500 advertisers. David was founder and CEO of Formove.com, an online marketplace, and previously the founder and CEO of 123Out.com, a social network that connected communities with entertainment venues.
In this conversation, David talks about the new features introduced for Emaze in the beginning of 2018.
Geetesh: It looks like Emaze has announced many new features this year. Can you tell us more about these features, and which ones are your favorite? Also, can you share some scenarios where these new features have made a difference?
David: Yes, Emaze has announced many exciting new features recently! It's been a busy year. We have added hundreds of new professionally designed 3D and 2D templates and dozens of new fonts to our platform, so that users can further customize and personalize their presentations.
We have also unleashed a new remote presenting tool, the latest feature to be added to our comprehensive suite of services specifically designed for our Emaze for Business platform. Emaze's remote presenting tool allows business users to make and view presentations from anywhere in the world, giving the presenter the ability to control the presentation from their computer.
In terms of advancements as a platform that prides itself on our next-generation technology, we have added some exciting recent additions to the Emaze editor. Now, users can achieve the latest trends in cutting-edge technology and design by adding sleek parallax scrolling effects to their Emaze presentations, without having to know a single line of code. For more advanced users, Emaze has added a new Custom Effects tool that allows users to create and customize any type of special effect that they can imagine!
One of my favorite features that we have added to Emaze is our Widgets tool. What this tool allows users to do is easily embed their automatically updating social media feeds directly into their presentations. So for example, a company giving a presentation could add their live Twitter or YouTube feed to a slide, or a live embed of a Google map. By allowing users to embed any kinds of live content that they want into their Emaze presentations and more, this completely changes the market of content creation as we know it, and makes presentations much more engaging, interactive and dynamic.
All of these new features have made a huge impact for so many of our users- business, education and beyond. Our business users are excited about being able to present remotely from directly within Emaze and not have to go use another virtual conference platform. Additionally, many designers and marketing professionals feel that these new tools are enabling them to achieve advanced branding and design goals from directly within Emaze. Businesses already chose Emaze for our presentation Collaboration and Analytics features, but now we are giving them even more value.
Geetesh: In a world where PowerPoint is omnipresent, where do you position Emaze? Do you think of PowerPoint as a competing product, or do you think it is complementary? Or do you look at it both ways?
David: We've all sat in a presentation where the slides on the screen were so dull and uninteresting, we could fall asleep. Our answer at Emaze to that is that presentations simply don't have to be that way! Whatever kind of presentation someone is making, it can and should be captivating, impressive and memorable, and you shouldn't have to pay an expensive presentation designer to make it for you.
With Emaze, people can truly accomplish that on their own. In this way, we don't think of PowerPoint as a competing product, but rather that Emaze offers a totally unique solution. PowerPoint has enabled many people over the years to put their thoughts onto slides and present them. It is functional, plain and simple.
Emaze, on the other hand, allows anyone to create a presentation that meets its full potential, and we give users the tools to do that. Every day, people are embracing innovation and searching for ways to express themselves creatively. Presentations are no exception to this. PowerPoint has been the status quo, but we think innovative technologies like Emaze are leading the way of the future.
---
---