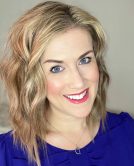 Deborah Ashby is a TAP accredited, MOS certified IT Trainer specializing in the design, development, and facilitation of Microsoft training courses both online and in the classroom. Since the mid 1990s, she has been involved in the IT industry starting her career on an IT Helpdesk for an airline. This sparked a passion for travel and in 1997, she left the U.K. and moved to Melbourne, Australia where she furthered her career as an Operations Analyst and programmer before moving into IT Training. In her free time Deborah loves to learn about history and travel to unconventional places, most recently to Chernobyl, Jordan, and Myanmar. She loves photography and her photos have appeared in The Evening Standard newspaper. She's also an avid swimmer, part time runner, full time vegan and animal lover.
In this conversation, Deborah discusses her new GoSkills training course on PowerPoint 365.
Geetesh: Deborah, GoSkills just released your new PowerPoint 365 course, and it looks like you have covered not only techniques, but also design skills and PowerPoint's influences in society. The result is awesome and wanted to ask you what motivated you to use this approach, and how do you think this approach will help your students?
Deborah: Firstly, thank you so much for the compliment – I'm glad you like the course!
Filed Under: Interviews
Tagged as: Deborah Ashby, GoSkills, Interviews, PowerPoint 365, Training