Sam Horn at the Presentation Summit 2013
Created:
Monday, September 23, 2013, posted by
Geetesh Bajaj
at 4:02 pm
Sam Horn, well known as the Intrigue Expert delivered the first keynote session for this year's Presentation Summit on Monday morning.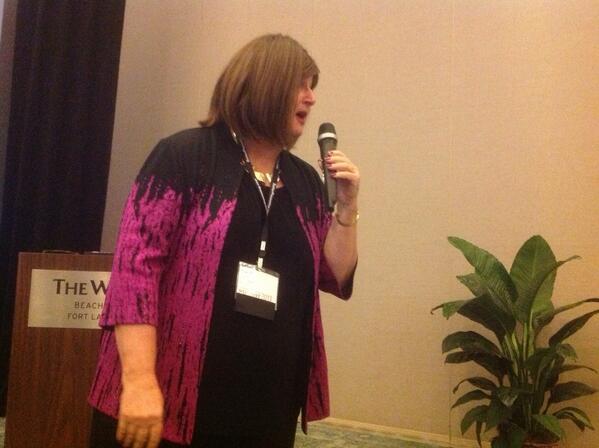 She started with three questions we all need to ask ourselves:
Are you eager to get up in the morning?
What are you good at that you can point at?
How do you know that you are making a difference?
Here are some thoughts shared by Sam:
Sam then involved the audience in an interactive exercise and asked them to first imagine a situation about which they need to convince a decision maker — here are the steps for this exercise:
What is the situation?
Who is the decision maker?
What do I want the decision maker to do?
Here are some more thoughts from Sam:
What are the three eyebrow up questions you have to do for the decision maker. Start with "Did you know……?"
Never ask a person, "What do you do?" Ask them instead, "Can you give me an example of what you do?"
The empathy telescope says "We can put ourselves in the shoes of one person, we cannot put ourselves in the shoes of thousands".
Sam Horn has a 25+ year track record as a communication strategist with international clients that include Cisco, Fortune 500 Forum, MPI, Intel, NASA, and Four Seasons Resorts. She has authored five books and has been interviewed as a media resource on every network and in every major city. To learn more, visit her site.
Categories: powerpoint, presentationsummit
Filed Under: Uncategorized
Tagged as: PowerPoint, Presentation Summit

Microsoft and the Office logo are trademarks or registered trademarks of Microsoft Corporation in the United States and/or other countries.