By Lyn Roseaman
The long, seemingly endless road stretched out ahead, as far as the eye could see. Nothing moved. Darkness creeping. The silence deafening. Suddenly…
Or
Good evening ladies and gentlemen. Thank you for inviting me to talk to you tonight. It's a real pleasure for me to be here at your company's 20th anniversary.
Which version has you tuned in, wanting to know more? A direct and dramatic opening or a predictable one that has you reaching for your phone, keen to know what's happening on Instagram?
The first 90 seconds of any speech, presentation, or job interview are your opportunity to connect with your audience and make a difference. Thought, time, and effort spent on your opening is, therefore, a very worthwhile investment.

Image: Pixabay
The opening of your speech has to work hard, providing your listeners with a compelling reason to park all competing thoughts and give you their full attention. Don't waste the opening seconds with platitudes, such as thank you for inviting me, what an honor, etc, etc; friendly, but boring and predictable.
Those opening seconds need to gain your audience's attention; interest them and pique their curiosity with an initial indication that you're going to give them something they'll value. It also needs to put your listeners at ease and ready to listen, knowing they're in safe hands. In short, your speech opening needs to embrace the three communication essentials of Connection, Confidence, and a message that drives Change.
1. Connection with your audience
Often your audience has already listened to several other talks or presentations. This means you are 'in competition' with what they're already heard, with work issues, personal issues, and the big question, what am I having for dinner tonight? With the added distraction of mobile devices, you need to work hard to capture their interest.
You need to stand out from other speakers. This starts before you've even uttered your first word, with an intriguing title and/or introduction from the host or chair.
Contrast is a valuable tool. If every speaker stands up and opens with "Thank you Mr. Chairman, valued colleagues and guests", an opening that is different and inclusive will make you stand out. For instance, "Mr. Chairman, valued colleagues and everyone who has ever felt the pressure of hitting a seemingly impossible sales target …" This will immediately signal something different and interesting is about to happen.
Make a direct, dramatic opening that's right for you and which seizes your audience's interest: It can be compelling, humorous, shocking, challenging, or imaginative. Try using:
A rhetorical or a survey question

Cue the response you're looking for. For instance, one hand raised in the air tells the audience you're interested in a show of hands, not a verbal response. Look expectant, with open body language if you want people to shout out answers.
Questions are even more effective when they're 'you' focused. Using the language of one-to-one conversation feels personal, that 'speaking-just-to-me' feeling. 'You' speaks to one, but includes everyone, eg Are you having fun?
Use 'have you ever …?' questions to achieve an emotional connection. Avoid 'how many …?' questions. They can be distracting as people search for answers in their memories.

Startling statistic or a bold claim

A statement in the form of a startling statistic or a bold claim can set the scene effectively for an informational or educational talk. "Did you know that …"

Paint a picture

This can start with "Imagine …" or "It was 2.30pm on a rainy Monday …" The aim is to get your audience to visualize a scene in their minds. Make it broad-brush. The audience will fill in the detail from their own experiences and memories, making it even more powerful for them.

Story or anecdote

A personal, amusing, short story that relates directly to your overall message. One that the audience can relate to.

A recent quotation from a respected industry expert

The expert gives added credibility and, if it's current, you sound on the ball.

Silence

Silence in the form of a distinct, confident pause gives your audience time to clear their minds of previous speeches or distractions, piques their curiosity and gets them focused on what you might be about to say or do.
Whichever approach you choose that's right for both you and your listeners, appeal to their senses – what people see, hear, feel, smell, taste. This will give your speech opening more emotional resonance and invites the audience in.
For example, if you're talking about restructuring your company, ask everyone to:
Imagine an organization where your colleagues are your friends, your office looks efficient yet feels welcoming, like home, the smell of coffee fills the air …
Then continue with your story:
I don't feel like that when I walk into our office. Do you?
In this way, you have tapped into the audience's (collective) imagination and they'll see themselves in your opening, using their frame of reference.
You can then bring them along on a journey as you continue your speech or presentation to entertain, inform, persuade, or inspire change.
2. Bring confident energy to your opening
Expectations shape reality. If your audience expects you to be good, they'll perceive you as just that. So show your confidence by dressing the part, using relaxed and confident body language, and never admitting to feeling anxious, unsure, or unwell.
Always speak in the active, not the passive, voice. Don't say:
Our business needs to be restructured for growth …
Saying so leaves the listener not sure who will be doing what by when. Say:
We need to restructure our business for growth … These are the next steps … who will … by when …
Sentences in the active voice are shorter, have energy and directness, especially important when we're online on Zoom or Teams. Speaking in the here and now gives you and your opening message immediacy and presence. Consider, too, how you can vary your vocal tone, pitch, pace, volume, etc, and your body language to reinforce your words and bring energy to your presentation.
Whether online or physically in the room, practice your opening so it flows naturally and is comfortable for you to say. On the day, take center stage and ooze confidence with a solid posture and a smile. The stability of your opening stance will support the credibility of your message. Look briefly around your audience. This gives you time to calm your nerves and the audience time to settle down, and focus on what you have to say. The pause will pique their curiosity – they will be eager to hear your opening words.
3. Message for the moment and make it memorable
Always try to find a fresh angle or point of view that makes your message feel new, relevant, and on point. Messaging for the moment will help your talk feel current and valuable.
Top speakers use 'anchor' or memorable phrases. A good anchor phrase should encapsulate the feeling and message of your talk. For Martin Luther King it was "I have a dream". In housing, Aileen Evans used the phrase "Home is where we start from", while Steve Jobs launched the MacBook Air with "It's the world's thinnest notebook".
Your anchor phrase is like a red thread. It's a few standout words your audience will associate with you and your message. When your phrase pops into their mind, the rest of your speech will be reactivated. If you can make it rhythmic, or even humorous if appropriate, then so much the better.
Final thought
Used well, and in a way that's right for you, your powerful opening will prevent the audience from thinking "so what?" You will have answered their all-important 'What's In It For Me' question and you're all set to give them something they'll value. With a direct and dramatic opening, your listeners are with you, wanting to know more.
---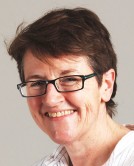 Lyn Roseaman is the founder of Now You're Talking, a coaching business that ensures people find their voice and transform their lives and author of Now You're Talking: Take your speeches, talks and presentations to a wider audience and a bigger stage.
Following a successful international career as a market research director, Lyn knows what makes people tick. Now she brings that understanding to public speaking, helping busy people build their confidence and create powerful narratives that deliver maximum relevance and impact to today's key target audiences.
The views and opinions expressed in this blog post or content are those of the authors or the interviewees and do not necessarily reflect the official policy or position of any other agency, organization, employer, or company.
---
---