By Kurt Dupont
In this post, Kurt Dupont of PresentationPoint explores how you can set up PowerPoint to show alternating text using some help from DataPoint, an add-in for Microsoft PowerPoint.
DataPoint has many capabilities including an option to set up alternating text, that we explore in this post. DataPoint is often successfully used to link PowerPoint shapes to data sources like databases, XML files, RSS feeds, Excel data sheets, etc.
Using these options, you always have the latest information displayed on your slides. For example, you can link the content of a data cell or column in Excel to a text box, and that content is displayed in real-time on your PowerPoint slide. Further, you can let texts alternate in the same text box, as shown illustrated on the animated image below.
You set up a dynamic, alternating text box by preformatting your text at your data source. To alternate your text, you have to use multiple lines of text in the same data cell or column. Normally you have one line of text at your data cell, as can be seen in the figure, below.
Here's another example where you have two or more lines of text in the same Excel data cell.
Tip: Add more than one line of text in an Excel cell
To enter multiple text lines in the same cell, follow these steps.
Enter the first text in the cell and then press

Enter

to commence a new text line.
Then, type in the next text line.
You can enter as many text lines you want in the same cell. Just remember to press

Enter

to begin a new line.
Save the Excel file and set up a connection to this file within DataPoint, as shown in the figure below.
This tutorial does not explain how to link and connect data from an external source to PowerPoint using DataPoint. To learn more about these techniques, look at the documentation for DataPoint on the PresentationPoint site.
On your slide, add a background image to the slide when needed. Then, add a text box to this slide, as shown in the figure below.
You should have this text box selected. Then, access the DataPoint tab of the Ribbon, as shown below. Click the Text box button.
Doing so opens its dynamic linking properties (see figure below). Select the Data connection and the Column options that contains the text with multiple lines.
Next, select the Texts tab, and enable the Alternate text boxes every option and set the alternate time in seconds.
Hit OK to close. The first line of the multiple text lines will become visible in the text box. This is the correct starting point for your slideshow. Start the slideshow and your alternating text box will show each line of your text for 3 seconds (or the time you want). You can place as many alternating text boxes on your slide as needed.
Advantages of Alternating Text
The advantage of using alternating texts in the same text box is that you can display more information, on lesser space. Plus, on top of that, alternating texts are more visible than just a static text box, because of the movement. Alternating texts are also great when you want to display information in multiple languages. You can alternate the English texts and then e.g. the French texts on your slide.
---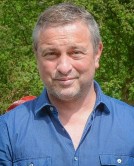 Kurt Dupont, based out of Belgium heads PresentationPoint, a company that creates several amazing PowerPoint add-ins. After his Computer Science studies, Kurt started with Andersen Consulting (Accenture nowadays) in Brussels.
After three years he moved to the Brussels Airport Terminal Company that runs the Brussels airport – this last placement inspired the start-up of Take-off (now known as PresentationPoint) in 1998.
The views and opinions expressed in this blog post or content are those of the authors or the interviewees and do not necessarily reflect the official policy or position of any other agency, organization, employer, or company.
---
---