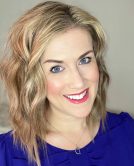 Deborah Ashby is a TAP accredited, MOS certified IT Trainer specializing in the design, development, and facilitation of Microsoft training courses both online and in the classroom. Since the mid 1990s, she has been involved in the IT industry starting her career on an IT Helpdesk for an airline. This sparked a passion for travel and in 1997, she left the U.K. and moved to Melbourne, Australia where she furthered her career as an Operations Analyst and programmer before moving into IT Training. In her free time Deborah loves to learn about history and travel to unconventional places, most recently to Chernobyl, Jordan, and Myanmar. She loves photography and her photos have appeared in The Evening Standard newspaper. She's also an avid swimmer, part time runner, full time vegan and animal lover.
In this conversation, Deborah discusses her new GoSkills training course on PowerPoint 365.
Geetesh: Deborah, GoSkills just released your new PowerPoint 365 course, and it looks like you have covered not only techniques, but also design skills and PowerPoint's influences in society. The result is awesome and wanted to ask you what motivated you to use this approach, and how do you think this approach will help your students?
Deborah: Firstly, thank you so much for the compliment – I'm glad you like the course!
I'm sure, like myself, you have sat through many PowerPoint presentations over the years. How many of them can you actually remember? Did any of them make an impact? I can remember one presentation in my 25-year career. I was hosting a training session at an event for Microsoft in Athens, Greece back in 2015. I happened to catch a fellow trainers' presentation and it has always stuck with me. The trainer walked on to the stage carrying a rugby ball and his presentation was playing a video of a rugby match as the title of the session flashed on the screen. Each slide was interesting. Each slide was engaging and fun. Some slides were a bit abstract, and some were a little shocking to the audience. Most of all, it was memorable. Everyone left that presentation thinking about the ideas presented. That has always stuck with me and since then I've strived to move away from creating 'bog-standard' slides that contain bulleted lists, the odd chart, and a few badly cropped images.
Granted, we aren't always in the position to have complete creative license when designing a presentation. Many times, we are bound by corporate templates, branding, and house-styles. We must consider if the presentation is appropriate for the audience. We need to keep it professional. So, in this course I really wanted to show learners how to create a modern, slick, well-designed, engaging presentation that was also professional. I also really wanted to harness the power of some of the newer features in PowerPoint for Microsoft 365 and show learners how to work in the most efficient way possible.
My aim with the structure of the course was to take learners on a journey through a slide workshop. I wanted to show them how to build a presentation from scratch in the way they would build it in a real-world scenario. I felt it was important to not just showcase the functionality but also show learners how to drag their presentations into the modern era. I wanted to show them that it was possible to build a modern slide deck even if you don't have a design-bone in your body. I also wanted to make sure that learners had access to the resources I use for images, icons, videos, and templates as well as providing them with sites I use for design inspiration. I felt it was important to get them to start thinking about their presentation in a different way and approach it from a design perspective. Think about the colors, the font, the images, and icons, how to use shapes in different ways, how to make slides have a consistent look and feel and ensure that everything is aligned perfectly. I also provide them with a framework of 'Golden Rules', that they can follow to ensure they avoid some of the many pitfalls when putting together a presentation.
Learning where to click is just one of the skills required to create an amazing PowerPoint presentation. The design element is equally important. I feel that I wouldn't be doing my job well if I didn't incorporate both'
Geetesh: What according to you is the one thing that PowerPoint users can do to make their presentations stand out from the millions of other slides you see every day?
Deborah: That's a great question and I'm sure everyone has their own ideas on this. For me, it's all about the imagery. I am a huge fan of using large, high-quality images in presentations. Nothing makes me sadder than seeing a tiny image in the corner of a slide, not really adding any value to the message. It is true that a picture speaks a thousand words, and we know from the extensive research that's been done into how people learn, the 'picture superiority' effect is real. People are more likely to remember images than words. Wherever possible I will choose a large image over a slide full of text. I like images that illustrate my points in an abstract way.
For example, a few years ago I was running a small training session for my team on 'Excel PivotTables'. My opening slide had a large screenshot from the TV show 'Friends' where Ross, Chandler and Rachel are trying to move a couch up some stairs. If you know the scene I am talking about, you'll understand how it relates to Excel PivotTables, albeit in an abstract way. The point here is that it was memorable. It got everyone's attention. And that is what images do when used correctly. I focus a lot on imagery in this course. Not just where to go to download images but also how to use them in different ways. For example, how to create a 'Meet the Team' slide with images perfectly cropped inside a shape. How to fill a shape or the entire slide with an image without it appearing stretched or distorted. How to use images as backgrounds with transparent overlays so that text is still visible. We also look at some of the newer resources in PowerPoint such as the icon library, stock images and cut out people.
I place such a high importance on imagery in presentations, not just pictures but also icons, shapes, and videos that I felt it was important to provide learners with all the free resources I use as well as the techniques to use them effectively to communicate a message. If you have a great image and then combine that with some eye-catching font, clever use of color and some thoughtful animation, you can't go far wrong.
---
The views and opinions expressed in this blog post or content are those of the authors or the interviewees and do not necessarily reflect the official policy or position of any other agency, organization, employer, or company.
---
---