Dr. Marcia Reynolds has trained and coached leaders in 36 countries. She spent 16 years working in large corporations, taking one company from near bankruptcy to top IPO in the US in 1993. She is a Master Certified Coach and teaches for coach training schools in the US, Europe, and Asia. With a doctorate in Organizational Psychology, Dr. Reynolds brings a valuable combination of neuroscience and psychology to her work. Her expert advice has been spotlighted in numerous publications, including Fast Company, Forbes.com, The Wall Street Journal, and she has spoken at high-profile venues and universities around the world.
In this conversation, Marcia talks about her book, The Discomfort Zone.
Geetesh: Marcia, tell us about your book, The Discomfort Zone. What is this book about, and what is the significant takeaway for a reader?
Marcia: Leaders and coaches are in the business of changing people's minds. Sometimes they push back, resisting and stuck in their harmful perspective. You want them to quit focusing on the problem. You want them try something new. No matter what you try, the conversation just circles back to what is not working. This is a perfect time for a Discomfort Zone conversation!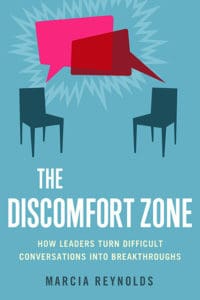 The Discomfort Zone: How Leaders Turn Difficult Conversations into Breakthroughs empowers its readers with all the skills to master Discomfort Zone conversations so people choose to make changes on their own. The process is based on using reflective inquiry, the best method for shifting perspective, creating new awareness, and eliciting ideas for change. The techniques serve to help people restructure thinking in more productive ways so growth is self-directed, which leads to long-lasting change.
The book provides readers with:
The Set up: The essentials for preparing to hold Discomfort Zone conversations
The Model: A proven model for conducting Discomfort Zone conversations to open people's minds to new possibilities
Case Studies: Many of these are likely to apply to your own situations
Developmental Ideas: Ways to support your growth and ensure your success
When you work with someone who you know is capable of achieving greater success but they are stuck in one perspective and resisting all suggestions, a conversation in the Discomfort Zone is your best opportunity to change his or her mind. The more you can get the neurons sparking in someone's brain, the greater the chance for innovation, unexpected achievement, and the insatiable desire to grow. Goals will be met or exceeded. More importantly, you will realize how fulfilling it is to watch a person's brain change before your eyes.

Geetesh: You lead readers to their own discomfort zone and that of others. You then show them how to benefit from, and lead out from that zone. Can you tell us more about how much of this pattern comes from your experiences as a coach?
Marcia: The book is based in deep coaching methods. After being trained to be a coach 20 years ago, I realized how powerful using reflective inquiry can be to prompt long-term behavioral change. I have been a student and researcher of how humans change their behavior for three decades. I was so impressed with coaching that I decided to earn my doctoral degree in organizational psychology with an emphasis in neuroscience and learning. I discovered how coaching works in the brain and why it is so much more effective than giving advice or feedback. Not only does coaching teach you to listen more deeply to better understand what someone needs to move forward, the focus on full-body presence increases the trust and intimacy of the conversation. People feel comfortable to share and be vulnerable as they explore their behavior with you. Add this to learning how to formulate powerful questions that make people stop and question themselves, and you have an effective transformational learning process.
The Discomfort Zone takes the best from my coach training and research and applies it to difficult conversations. It takes practice and courage to implement the techniques, but the results are worth the effort. If you are in the business of activating people's hearts and minds to make important changes, the book offers the means to achieve your goals.
---
---