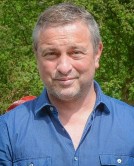 Kurt Dupont is a solution provider who would go out of his way just to ensure he brings out the best when it comes to issues that has to deal with data-driven presentations, data visualization, and digital signage software. He started by working at airports worldwide to set up airport databases and flight information screens. This evolved to become the basis for PresentationPoint.
In this conversation, Kurt talks about the Full-HD Weather Screen Expansion Pack for DataPoint and Dynamic Weather PowerPoint Add-ins.
Geetesh: Kurt, can you tell us more about the new Full HD Weather Screen expansion pack for DataPoint and Dynamic Weather PowerPoint add-ins. What prompted you to create this expansion pack?
Kurt: In the past, our old add-ins could already display the weather icons in real-time. So, you set your location (city) and our add-in is retrieving the current weather conditions and forecasts for the next days. You can display the current temperature as text in a text box, or you could display the weather type as a picture or weather icon.
All weather information is updated next time when you open the presentation. Or, when you run the slideshow, the add-ins are continuously updating the weather conditions in real-time without lifting a finger.
These icons evolved over the years. Initially we started with 2 icon sets; a black weather icon set and a white weather icon set. Later on, a full color weather icon set was added, and recently an animated weather icon set.
Typically people used a single color as the background of a slide, or a static image as background image and then this weather information as PowerPoint shapes on top of the background image.
We got the idea to make this better with full animated images or videos in the background. And why not display the current weather type in full screen with motion? With this option, you can display a shining sun, or falling snow flakes, or terrifying lightning, all dynamic and based on the current local weather conditions.
Geetesh: How much does this pack cost? And do you have any tips that will help people in using these packs within PowerPoint more effectively?
Kurt: The pack can be ordered at our webshop for a one-time of $29. It's download size is huge: 1.6 GB.
All our customers use the software to display information in real-time on television or computer screens, all designed with and within PowerPoint. They show live news, company key performance indicators (KPI), way-finding in buildings, info to motivate people, welcoming people at the entrance or reception area and so on.
All of them are interested to show weather information on the screens. Weather info is so omni-present and needed everywhere because that attracts your eyes and gives other information to the viewers. This results in better communication or more sales for your core business and products.
---
---