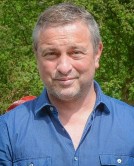 Kurt Dupont is a solution provider who would go out of his way just to ensure he brings out the best when it comes to issues that have to deal with data-driven presentations, data visualization, and digital signage software.
He started by working at airports worldwide to set up airport databases and flight information screens. This evolved to become the basis for PresentationPoint.
In this conversation, Kurt talks about new capabilities in DataPoint, an add-in from PresentationPoint that allows PowerPoint to connect with hardware resources.
Geetesh: Kurt, please tell us about this new feature where a hardware device measures the height of a vehicle, works with PowerPoint and DataPoint to show a mapped signal or slide, that instructs the vehicle to stop. This looks like a very useful feature. How would this work?
Kurt: Well, this hardware is an infrared detection system like at an elevator. So when you have an infrared signal positioned at e.g. 2m high (this is the height that the tunnel can handle), and when that signal is interrupted, then you can detect that the vehicle is higher than 2 meters. That interruption is detected, and it inserts a certain alert into a Microsoft SQL database. And there are other signals possible, or free text messages that the operator can insert into the database. Our DataPoint add-in for PowerPoint is connected to that database and scanning every 10 milliseconds the database for new information. So when a too-high message is triggered, then DataPoint changes the corresponding image on the slide.
This system was recently implemented at a new tunnel in the heart of Antwerp, Belgium.
And otherwise, this same screen is just displaying the speed limit or some instructions or conditions as free text. The output of the slideshow is not going on a normal television or computer screen but is displayed on multiple LED screens.
Geetesh: What other scenarios exist, where this technology or similar technologies can be used effectively. Can such technology also be used to implement social distancing?
Kurt: Screens like this (or digital signage, as it is called in the professional AV world) is a great tool nowadays to maintain the social distancing. You can monitor everything with lasers and cameras, and when you want to address someone, then you can safely send out a message to the screens or access points using this technology.
The same could happen e.g. when you trigger a vehicle that wants to enter a parking lot. You can give them safety instructions and give messages without physically meeting the visitors. You can find a similar implementation e.g. at truck loading docks. You can guide a truck to his loading position where you have a television or LED screen where you show a number, or his license plate.
---
The views and opinions expressed in this blog post or content are those of the authors or the interviewees and do not necessarily reflect the official policy or position of any other agency, organization, employer, or company.
---
---